Funky Gotta Rant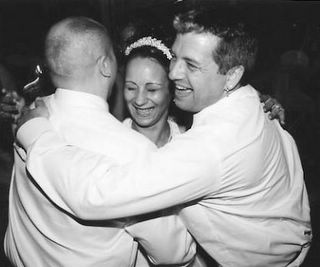 Do We Look Like We're Hurting Anyone???
Last night was MOVIE NIGHT in my Ethics class. A few weeks ago we watched "John Q" and I cried so much it wore me out. I told LoveBug about my experience and he said, "Well, at least you didn't have to watch Philadelphia."
Last night was MOVIE NIGHT in my Ethics class. And.We.Watched.Philadelphia.
So I'm ready for the cryin' to start... but I wasn't so much ready for the anger to spew forth. Let me get straight to the point:
There is a scene in Philadelphia where Denzel's character takes out his cell phone. IT TOOK UP HALF HIS HEAD! I had a bagphone that was smaller than this cell phone. Great giggles arose from the classroom.
There is a scene in Philadelphia where Tom Hank's character is working on two computers...one desktop that appears to be DOS based, and a laptop that is thicker than your standard briefcase. Again...snickers arose from the room.
Then...oh here I get mad...then there is a scene where Hank's character is in the ER, and his partner (played by the oh-so-much-sexier-when-gay Antonio Banderas) is being threatened by the attending physician. "...you're not immediate family...I can have you escorted from the premises..." Looks like only SOME things have changed...only a few advancements have been made...
(My bois know why I'm getting ready to get mad...for the rest of you poor, unsuspecting readers, I apologize for my all-caps recap...)
IN THE LAST DECADE WE HAVE MADE CELL PHONES SMALLER THAN A QUARTER, LAPTOPS THINNER THAN A CRACKER...IT ONLY TOOK TEN OR SO YEARS TO STREAMLINE TECHNOLOGY...BUT WE STILL CAN'T FUCKING INTERPRET THE GODDAMNED CONSTITUTION????!!!!????AAAAAAAAAARRRRRRRRRRRRHHHHHHH!!!
Honestly... look at us...me, Scotty, and Joel... who are they hurting?