Fighting Fatness
So The Skinniest Bitch has gone into retirement. If you've never been there, let me do the debriefing, briefly:
My pal
Scotty
and I decided to challenge each other to six intensive weeks of healthy weight loss. Doesn't that sound like a GREAT idea? Yeah, and then we both went on various and assorted vacations. Bwa! Try losing weight on vacation! Well, okay... I actually did lose some weight, but mostly because my vacations involved walking over the rivers and through the woods, not to mention the occassional marathon through antique stores and consignment shops. But I digress, and I promised to keep this brief.
Six weeks has come and gone, and I got extremely bored with The Skinniest Bitch. She was not fresh and exciting. Posting once a week about a pound or two was hardly interesting writing OR reading. On the other side of the blog, Scotty was perfectly content with his weight and didn't want to lose anymore. So we decided to shut 'er down.
However, I'm still trying to lose weight.
I've got New Orleans for New Year's Eve...
Italy again next summer...
(Yes, every man in Italy DOES look just like this.)
...and most importantly, Fantasy Fest in Key West next October.
Hell, I'm not going to get my body painted if there's even a hint of disgusting belly growth protruding over my cooter.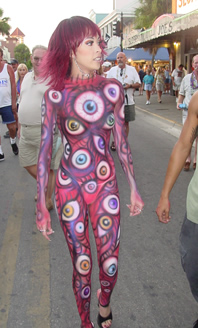 So here at FunkyBug, you will be treated to the occasional update on my progress. Jeez oh Pete I'll try to keep it to once a month, or maybe tuck it in my sidebar. If I ever get that damned weight ticker to fucking work with my template, I'll just let it speak for itself.